Nut-Free SunButter® is Part of the Solution to Peanut Allergies
Our founder's niece, who has a peanut allergy, was part of the reason we created SunButter in the first place! We wanted a safe, nut-free food product for kids and their parents. Today, we have employees with food allergies, and our employees all live with and know people with food allergies and food sensitivities of all types. We're proud to be part of the solution.
Read the whole SunButter story.
Allergy Info: Safe for Nut, Tree Nut and Peanut Allergies
Our main processing facility is in the Upper Midwestern United States, surrounded by sunflower seed growers. (In fact, peanuts wouldn't even grow here!) We know these growers, and we make SunButter from their harvested sunflower seeds. We roast the seeds before we grind and blend them into SunButter, which makes a big difference in flavor. You could say it adds a 'nutty' flavor, but without any nuts at all.
See what others say about SunButter
Nut-free
Peanut-free
Tree nut-free
Gluten-free
Dairy-free
Egg-free
Processed in a strictly nut-free facility (Our employees aren't even allowed to bring in peanut butter sandwiches for lunch!)
Nutrition Info: Nut-Free Protein
We're now way beyond sandwiches! We love seeing what SunButter customers create with our products. We're especially fond of seeing it in kids' lunches and as a substitute for peanut butter in heirloomed family recipes. We're so proud that kids and their parents can safely enjoy sandwiches, smoothies, with apples, carrots, celery or crackers, and in nut-free recipes. SunButter gives kids and others with food allergies filling protein, great taste and other nutritional benefits, including:
27% RDA of Vitamin E
8% of iron
Double the fiber of peanut butter with the same level of protein
No hydrogenated oil
0% trans fatty acid
Note: We do make SunButter from sunflower seeds roasted on equipment that also roasts soybeans. We use a thorough cleanout process, yet if you have soy allergies, please read the details of our roasting process.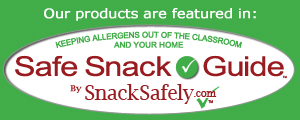 Be honest; we aim to please!
Closer than you think...
Spread the sunshine!